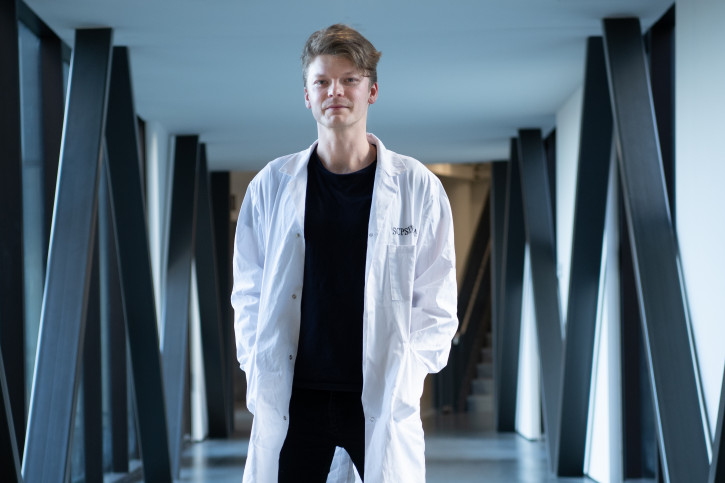 In the third of his 'laws', Arthur C. Clarke posited that "Any sufficiently advanced technology is indistinguishable from magic." It's a sentiment that drew sci-fi and fantasy fan Joe Schuyt into the world of physics. It represented a career path that was a little more 'out of the real world' than anything else he could study.
An undergraduate degree at Te Herenga Waka—Victoria University of Wellington in the subject followed, and it allowed Joe to set his sights firmly on the field of experimental physics. He went on to specialise in materials science—specifically, optics and luminescence.
Joe synthesises, characterises and optimises novel luminescent materials and has recently discovered how crystals can be used to help identify radiation levels across various applications.
Helping to drive his passion to have real-life impact, the Wellington UniVentures team have supported Joe in understanding the commercial use of his invention.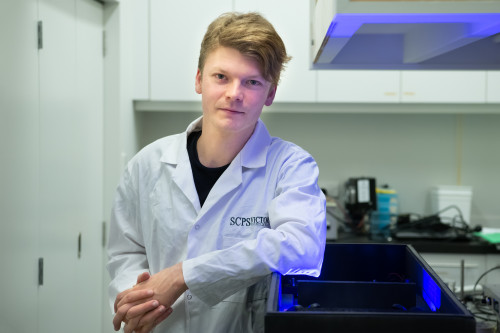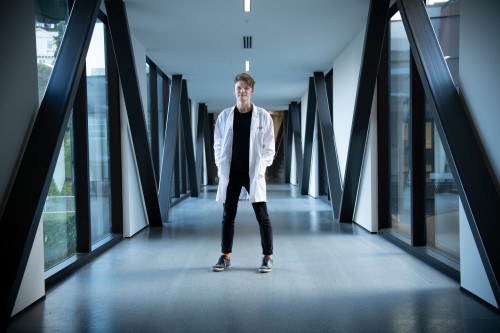 Joining the Emerging Innovator Programme
With support from his PhD thesis examiner, Joe was encouraged to connect with Wellington UniVentures and it was during this time that Joe had some early engagement with industry, helping him to develop his research.
"It's easy to stay cooped up in your laboratory just doing the science and leave everything else to everyone else," says Joe. "But if no one knows what you're doing, you can't expect them to help you."
"I was in a very fortunate position," he adds, "because I already had a prototype." He presented his idea, and the team at Wellington UniVentures was quick to recognise the potential in his project. They recommended he apply for the Emerging Innovator Programme and helped him polish his pitch.
They've since helped him develop skills through a number of workshops that have assisted him with grant writing, funding requests and market validation. Some have taken him out of his comfort zone and really challenged him.
"Joe is incredibly passionate about driving the commercialisation of his technology. The Emerging Innovator Programme is a great opportunity for him to further engage with different industry groups and understand the end-user requirements within the healthcare market." Explained Hamish Findlay, General Manager Commercialisation.
What's the project?
In radiotherapy, extremely high doses of ionising radiation are used to kill the cancerous tissues in tumours. By necessity, these are very destructive and there is a risk of harming the patient. Being able to monitor the dose is an important part of the process, but currently the radiation used in these treatments is measured using either radio-chromic films or an ionisation chamber. Ionisation chambers produce a one-dimensional measurement that would be cumbersome and time-consuming to use for tracking different beam geometries.
"Today, there are so many developments in radiotherapy treatment plans that are largely experimental," says Joe. "As of now, they can't really be used because detectors have not kept up."
Joe has found the solution in crystals. Developing new dosimeter technologies, the material he has discovered can trap charges produced by radiation in pockets at precisely the point it is delivered. The incident radiation energy is then stored passively until the trapped charges are released by optical or thermal stimulation. As this happens, they emit light—meaning the amount of radiation can be measured optically.
It's a solution Joe describes as an "all-optical, passive means of dose detection." It can be read out during, immediately after, or even a year after exposure to the dose. What's more, it can produce 3-dimensional information, and, unlike radio-chromic films, it can be reused.
How will the Emerging Innovator programme support the project?
"A lot of what I thought I knew about the market came from scientific publications," says Joe. Joining the programme in November 2020 it was then that he become exposed to what was really happening on the ground. The knowledge he gained showed him just how much work would need to be done to commercialise his discovery.
While application is varied across hospital and medical environments, Joe learnt more about the specific needs of the industry by connecting with mentors throughout the programme.
It has given Joe a more rounded perspective as he understands the widespread impact of his research. Joe now looks for potential use cases and viability in anything he discovers, rather than just the result.