Every researcher is different, with different ambitions, goals and priorities. So we have created a range of flexible options for creating new ventures with us, suitable for different types of researchers. Our range of flexible models enables researchers to choose the approach that best suits them to create impact with their invention. We will help researchers decide and support them with the approach that makes the most sense.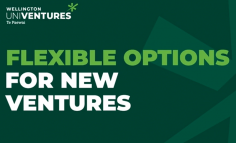 In this video, we explain how the different models work. Watch here, or find out more about each model below.
The options in more detail
Regardless of the model chosen, all projects will receive the following support from Wellington UniVentures throughout the Tier One process.
IP management and patenting/IP protection.  
Market validation of opportunity. 
Basic branding support.
Initial technology check and de-risk.
Scoping of team skillset requirements and gap analysis.
Speak to one of our Commercialisation Managers about options for your project.