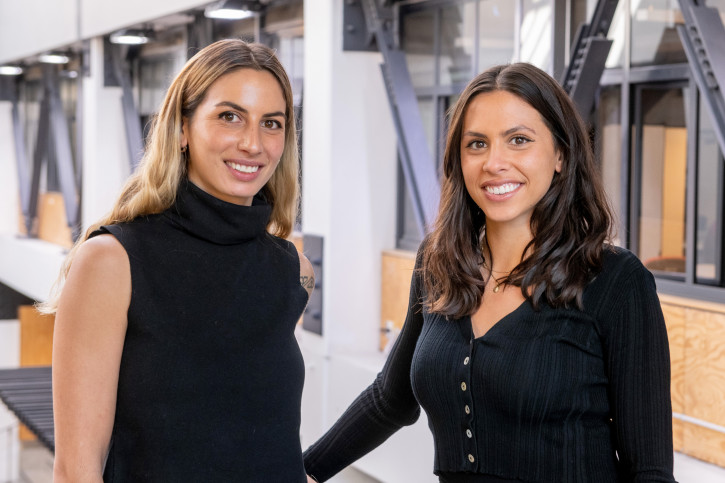 Xuxu Amoozegar-Montero is a PhD student studying Industrial Design and her sister, Aida, is studying a PhD in Sociology, both at Te Herenga Waka—Victoria University of Wellington.
Looking at the potential of 3D knit technology and the need for women who have undergone reconstructive surgery to find a bra that adequately fits and helps to restore confidence, the pair have joined forces to develop a new bra measuring and design system.
The Wellington UniVentures team are supporting the sisters as they work to translate their research into a piece of tech that can be used by women globally.
Find out more about Xuxu and Aida, and their project, here.
The Emerging Innovator Programme
Xuxu and Aida knew they wanted to use their research to create a product and apply it to real-life situations. Understanding how the team at Wellington UniVentures could help get their idea off the ground, the sisters were in touch to learn more about the commercialisation journey.
Senior Commercialisation Manager, Ashwath Sundaresan, recognised their drive and ambition and knew that the KiwiNet Emerging Innovator programme would be a great first step. Helping them to navigate their way through the next phase of their work, Ashwath recommended they apply for the programme.
Xuxu shared, "We were at the very beginning stages of our project and assumed that we would need a functioning product to apply. But the Wellington UniVentures team were incredibly encouraging and helped us to acknowledge the potential in our work from the offset. Ashwath has helped to keep our project moving and ensure that every stage aligns with our end goal. We're both incredibly pleased that we were accepted on to the programme so that our research can be translated into useable technology."
What's the project?
Xuxu and Aida have created a bra measuring and design system allowing women to take their own measurements at home. An individual's unique measurements are inputted into a website and the data is used to create a custom 3D knit bra. Compared to current systems where just two metrics (bust girth and cup size) are required, 12 different data points are entered to create the bra. The 3D technology is applied to create more complex shapes for an inherently better fit.
Through their research, Xuxu and Aida saw a gap in the market for those who had experienced reconstructive surgery. Women who require a mastectomy or reconstruction go through a huge change both physically and emotionally. Their research found that post-surgery many women rely on bras to increase both self-confidence and breast symmetry, but the options currently available due to a lack of bra styles/sizes available to cater to post-reconstruction needs.
Their technology has the potentially to impact the lives of women globally who have undergone reconstructive surgery and are struggling to find a bra to suit their needs. Read more detail about The Bra Project here.
How will the Emerging Innovator Programme support the project?
Xuxu and Aida have great research to develop their project but hope that the Emerging Innovator Programme will provide them with business mentorship and skills not learned during their academic career.
"We want to make sure that we are going through the right processes and be guided to ensure that everything we do leads to real-life application. From getting investment, to marketing the product, these are things that we didn't think about when carrying out our research, so we hope this programme will help us in these areas," Xuxu told us.
Xuxu and Aida's research is specifically based around those who have experienced reconstructive surgery, but the pair want to use the Emerging Innovator programme to broaden the net and further understand the potential for the system to be used by anyone who has bra fit issues.
Aida explained, "through the funding, we want to trial the system and get constructive feedback from real users. This programme really is the starting point for us as we journey through the first stage of development. It's an exciting time!"