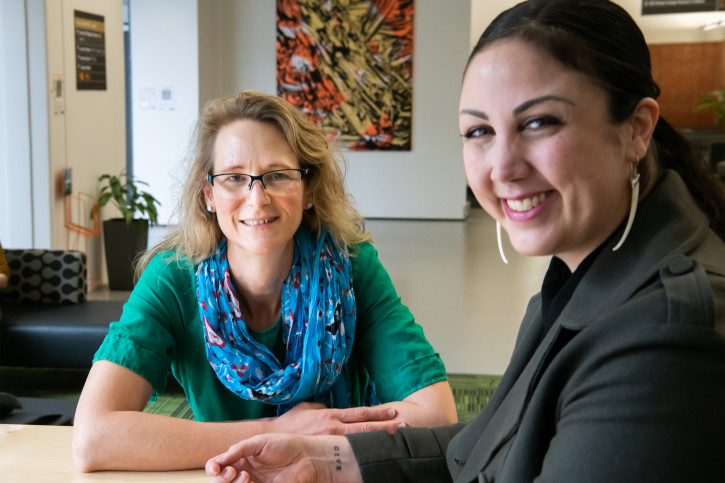 Holly Gooch is paving the way for an accessible identification tool for twice-exceptional students in New Zealand. People who have both a learning gift and a diagnosed learning disability are known as twice-exceptional or 2e, and Holly's research explores ways of supporting twice-exceptional teenagers.
Holly has a diverse background in the education sector, working as a learning support coordinator, a gifted programme coordinator and a teacher. Holly has always been interested in supporting young people who struggle in a schooling environment and her research into twice-exceptionality looks at how best to engage students and harness their strengths in the classroom. Holly believes psychology plays an important role in education and this led her to take on a Master's in Educational Psychology, which she is currently completing at Te Herenga Waka—Victoria University of Wellington.
Wellington UniVentures' Senior Commercialisation Manager, Lisa McLennan, came across Holly's research online as ADHD New Zealand had been promoting her work. Seeing how Holly's research could have real impact on our rangatahi across the country, Lisa quickly connected with Holly to help grow her idea.
Joining the Emerging Innovator Programme
Twice-exceptionality is not a concept that is widely recognised, particularly in New Zealand. Helping to raise awareness of the term and formally identify these students will support them throughout their academic journey.
Lisa explained: "Holly noticed that twice-exceptional students constantly repress the impact of their learning disability, making it extra stressful for them to learn. Holly's research is allowing her to not only develop an assessment tool to help identify these young people, but she also aims to create a suite of resources to support teachers as they remove some of the stress their pupils experience when they come to school. So, it's not just identifying and diagnosing, it's supporting and upskilling teachers and caregivers as well."
Lisa recognised Holly's drive for change and nominated her for the KiwiNet Emerging Innovator programme to turn her vision into a reality. Like Lisa, the panel also saw how Holly's idea could be hugely beneficial to so many students and Holly became the first person to join the programme with a background in humanities.
Holly told us: "Seeing other people get excited about the project has been incredibly reassuring. I have loved seeing more people getting familiar with the concept of twice-exceptionality and discussing it with others. We need to empower our rangatahi in the classroom and ensure they have the support around them to succeed and thrive."
What's the project?
There are currently a number of barriers for twice-exceptional teens needs being identified and catered for in the classroom. However, Holly is developing a screening tool to be used in schools to help identify students who would benefit from having a full assessment by professionals to determine if they are twice-exceptional. Holly is also developing resources for teachers and whānau to support twice-exceptional teens and their learning.
A twice-exceptional child's giftedness is often concealed by their specific learning disability, but these tools aim to help students access the support they need at school while also nurturing their strengths.
How will the Emerging Innovator Programme support the project?
Holly's research has allowed her to develop a screening tool and take the first steps to pilot the idea. While the concept is there, Holly hopes to learn more about how to take the next step so that it can be widely used in classrooms across the country, by learning more about the commericalisation process.
Holly told us: "I'm looking forward to learning more about intellectual property and marketing opportunities. I want to be guided on how to create a business plan and figure out a long-term and sustainable way to fund this project."