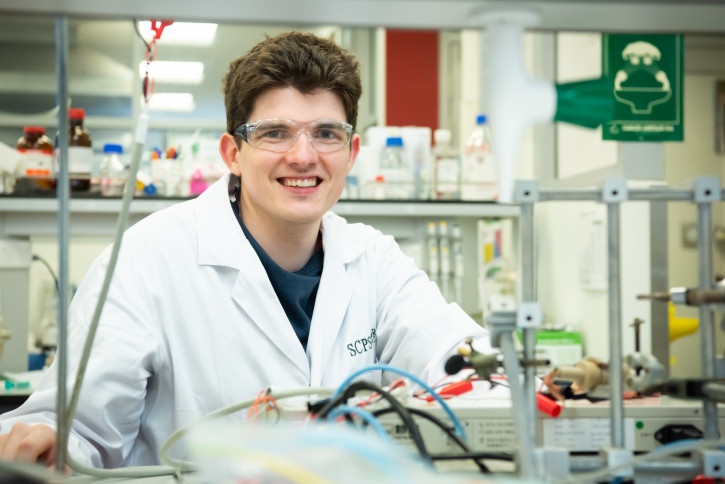 Studying a PhD in Electrochemistry at Te Herenga Waka—Victoria University of Wellington, Fraser Hughson's research focuses on the materials used in batteries and supercapacitors. Supercapacitors are in the spotlight, largely because of advances in photovoltaics and battery storage, with current research focusing on sustainable battery technology. In the fast-growing renewable energy market, Fraser has developed a water-based electrolyte which is not only sustainable but also significantly cheaper than current storage options. With the support of Wellington UniVentures, Fraser has been able to develop his technology into something that has the potential to disrupt the way supercapacitors are used today.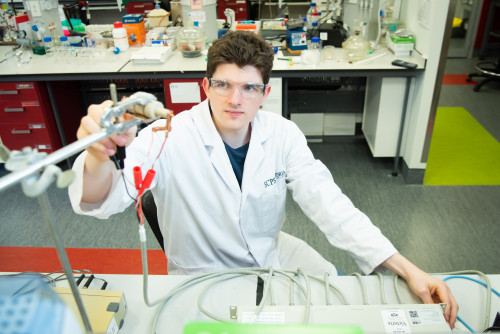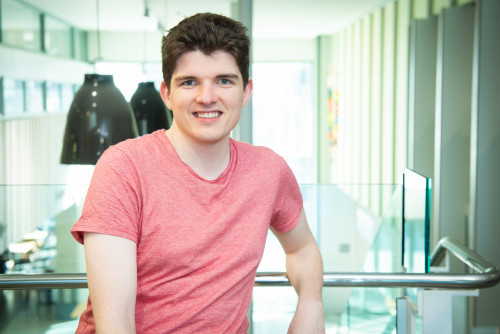 Joining the Emerging Innovator Programme
Fraser is quick to acknowledge that his discovery is the first step on the long road to marketing a finished product. But it's a journey he is undertaking with the support of the commercialisation team at Wellington Univentures. The team recognised the breadth of applications for these cheaper, safer supercapacitors and focused on helping Fraser progress his invention through patent and on to production.
As well as providing marketing and commercialisation advice, Wellington Univentures recommended Fraser apply for the KiwiNet Emerging Innovator Programme, which has helped him to better understand the commercialisation process and connect with industry partners. One of Fraser's research colleagues had already been awarded a place on the programme, so he was familiar with the potential benefits it could bring.
Hamish Findlay, General Manager Commercialisation has supported the ongoing development of Fraser and the team's work. "We knew that the Emerging Innovator Programme would be a great step for Fraser to accelerate his commercialisation journey. The programme has provided him with the necessary foundations to get his project on a clear commercialisation pathway."
How has the Emerging Innovator programme support the project?
The funding from the programme has helped Fraser carry out market validation research with manufacturers, giving him a clearer view of the potential paths to market. But the most significant benefit has been the access to a mentor. Having someone with vast experience and contacts in industry has been invaluable.
"The way in which you approach commercial problems and set up a business—even the way you approach conversations—is very different from science," says Fraser. "My mentor was exactly the person I needed to talk to make sure I was positioning my research to suit the needs of the end-users."
Everything Fraser has learned through the programme has given him the confidence to make initial contact with potential business partners. It is something he says he would never have been able to do otherwise.
What's the project?
Although supercapacitors offer quick storage and release of an electrical charge, they are often overlooked by product manufacturers and designers. This is partly because they are more suited to delivering short bursts of power than storing large amounts of energy, but it's also down to the costly, corrosive and flammable electrolyte inside them.
To solve the latter problem, Fraser has developed a water-based current liquid for use in supercapacitors. It performs just as well as its toxic counterpart but is cheaper to produce and has no safety issues.
This new electrolyte offers real potential in a market that, while growing rapidly, is still dwarfed by the demand for lithium-ion batteries. It opens the door to new uses in transport and electricity networks—where quick storage and release could help ensure consistency of supply—and could even lead to the deployment of solutions in which supercapacitors and lithium-ion batteries work side by side.