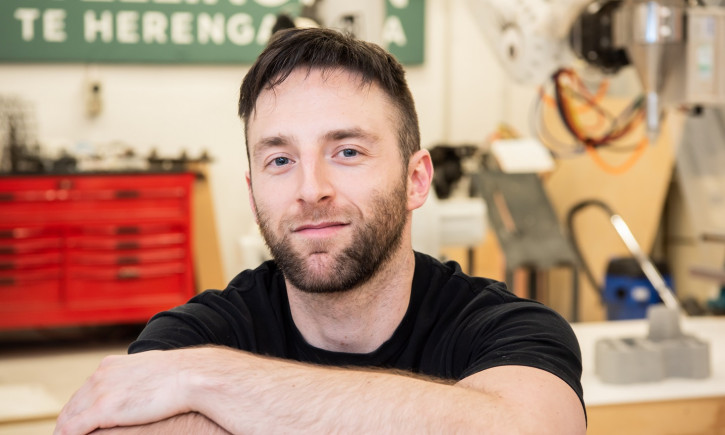 Armano Papageorge moved to Wellington to start his bachelor's degree in Architecture at Te Herenga Waka—Victoria University of Wellington in 2013 and has since also completed his Master's. With aims to complete his PhD in January 2022, Armano is continuing to develop his research into sustainable building materials for the construction industry.
Over the last three years, he has researched how concrete 3D printing can be used within the New Zealand construction industry in response to the growing demand for more efficient building alternatives.
Armano studied alongside fellow Emerging Innovator, Ged Finch, who worked with Wellington UniVentures and developed his own company, X-Frame. Hearing of Ged's positive experience, and keen to learn more about how to take his idea to market, Armano was introduced to the Wellington UniVenures team.
Giving Armano the opportunity to further develop his idea and explore market applications, Wellington UniVentures nominated him for the Emerging Innovator Programme and he was selected to join in October 2020.
The Emerging Innovator Programme
Armano realised early on in his research that his idea had the potential to have real impact. Encouraged by the support that his friend received from Wellington UniVentures, Armano was in touch with the team to better understand the market potential and what steps he needed to take to help get his idea off the ground. Armano connected with Liam Sutton, our Commercialisation Manager who specialises in architecture and design.
Liam told us: "We knew that the Emerging Innovator Programme was the best way for Armano to explore the application of his idea and better understand the process to get his idea to market. The programme has supported him in his goals to commercialise his system and he's gained invaluable information from the industry which is also useful to his peers, continuing to inspire the development of new and improved construction techniques."
What's the project?
Armano has developed a novel construction product which will enable the building and construction industry to use 3D printing in the manufacturing of building systems.
"For over a decade we have been living through a housing crisis that has been struggling to deliver enough high-quality, warm, dry, affordable and safe homes for New Zealander's. Each year sees greater urgency to improve productivity and efficiency within the construction industry as our population continues to grow. Timber framing has been a staple of New Zealand construction for over a century; however, major issues with timber is that it wants to catch fire, it wants to rot, and it wants to conduct heat. Concrete on the other hand does not suffer these problems to the same extent," explains Armano.
3D printed building elements may be a key solution to New Zealand's housing challenges, with several benefits for the construction industry, including productivity gains, reduced construction time and costs and fewer health and safety implications.
Armano's original concept was to create digitally generated, mass-customised, 3D printed concrete masonry units (CMUs). Working with Wellington UniVentures and better understanding the needs of the industry, Armano found that 3D printing concrete building products would lend itself better to larger structural building elements, such as an alternative to tilt-up slab concrete panels, and to conventional cladding systems such as brick veneers. Taking advantage of 3D printing capabilities, combined with an advanced knowledge of computational programming construction systems, Armano adapted his initial proposal in response to these discoveries, and has since been developing a digital workflow that can seamlessly generate these alternative concrete 3D printed building systems in response to the client's needs.
The materials are printed using a concrete material extruder attachment to a 3D printer. They are then left to cure for 24-48 hours before being transported to the site where they are assembled and infilled with other necessary building products, such as insulation, reinforcing and grout.
The use of 3D printing enhances the production process and the overall building use efficiency, making this an attractive model to use for those in the industry.
How will the Emerging Innovator Programme support the project?
This programme has been fundamental in Armano's aim to grow knowledge around product viability and better understand the needs of the building and construction industry by connecting with industry partners. He soon found that his original concept wasn't worthwhile, but the flexible nature of 3D printing, when combined with advanced computation, meant that he could easily adapt his idea to suit market needs, and this led to the suite of concrete products that Armano is currently working on.
Armano also found that offering a suite of products made it more palatable for those in the industry – rather than changing the system to solely use 3D printed concrete masonry units, cladding can be attached to the pre-existing timber framing using a brick tie. This is a way to ease in to using new materials and to find out what works for the industry.
Armano acknowledged that prior to joining the programme, he wasn't sure what steps he needed to take to grow his idea. Through the experience gained on the programme, Armano was able to refine and mature his designs to make it investor ready.
Coming to the end of his time on the Emerging Innovator Programme, Armano has utilised his experience by meeting with industry contacts and starting conversations with those in the sector.
Armano shared: "The programme has been hugely beneficial and opened doors to other opportunities outside of academia. It's been incredibly useful to get to grips with the commercialisation process and to better understand the needs of the market. It has been a great experience."